Pastoral Team
Michele Rae Rizoli (currently on sabbatical until January 2023)
Michele, the "shepherd" of our little flock, grew up in Brazil, where s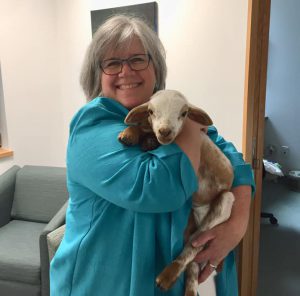 he was shaped by the culture and her parents' work as missionaries with the Mennonite Church. She has been back in Canada for many years, working and raising two sons in Toronto. A member of TUMC since 1993, she has served in various roles, including an extended period on the preaching team. This affirmation from the church led her into formal ministry. Michele earned her Master of Divinity from Emmanuel College at the Toronto School of Theology and has worked with young adults through the Ecumenical Chaplaincy at the University of Toronto. She previously worked in editing, translation and administration, though she holds a bachelor's degree in music. Michele loves travel, word games, movies, and good conversation, especially when it comes to talking about the joys and struggles of a life of faith, telling stories or jokes. She believes firmly in the importance of working for peace and nurturing inter-generational, inter-cultural and inter-religious compassion.
You may e-mail her as mrizoli@tumc.ca
Peter Haresnape
Peter was born into a non-denominational Christian community in England, giving him early experience of living out faith in every aspect of life. He studied English Literature at Stirling University, where he also encountered theologies of liberation and solidarity, calling followers of Jesus into action for social justice. Following that call he came to Turtle Island in 2010 to work with Christian Peacemaker Teams as part of the Indigenous Solidarity program. Peter has been active in interpreting issues of decolonization and solidarity to the Church through sermons, workshops, and two chapters in Unsettling the Word – Biblical Experiments in Decolonization (Mennonite Church Canada 2018).
After attending for several years, Peter formally joined TUMC in 2015 and has served on Preaching Team, as a Junior Youth Sunday School teacher, and as a consultant to the Mission and Service Committee. Since 2016, Peter has been the National Coordinator of the Student Christian Movement of Canada (SCM). In that role Peter is a core organizer of the Cahoots Festival, an annual ecumenical skill-sharing event focused on faith and justice.
Peter accepted a call to pastoral ministry at TUMC in November 2019.
Peter is married to Ken, living together with housemates in Toronto's former Catholic Worker community. Peter enjoys Arthurian literature, roleplaying games, small group Bible studies without foregone conclusions, and drinking cups of tea with friends and enemies.
You may e-mail him as Peter.Haresnape@tumc.ca
Ministry Team for Youth and Children
Audrey Wichert 
Audrey brings her energy, gifts, wisdom, faith and humour to the important work of nurturing our kids through Christian Education, Venture Club (pre-teens), GERMS (junior youth) and TUMY (senior youth). She's assisted in this ministry by carefully vetted volunteers from the congregation to ensure a safe, fun, supportive and faith-building experience for children and teens.
You can email her here. Audrey.wichert@tumc.ca
Office Administrator
Marieke Meyer
Marieke worked for many years at CBC Radio as a producer on programs like Rewind, Tapestry and Morningside. Now she's happily taken over administrative duties to help keep TUMC humming. She and her husband Thane have two grown sons. 
You may e-mail her as secretary@tumc.ca