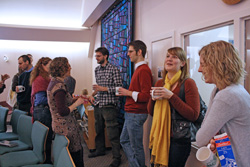 Enjoy connection and community
Find a place where you can truly belong at TUMC. Various groups meet to fellowship, share ideas, nurture  their faith and have fun. Some are Sunday School classes — for children and adults — that meet before the worship service. Other groups meet monthly, weekly or ad hoc.
TUMC is also a place where you can suggest your own ideas about how to grow your faith, explore friendships, and initiate new activities.
Where do you belong?
Send an e-mail to the church administrator at secretary@tumc.ca or phone 416-699-6631, to connect with any of these groups.